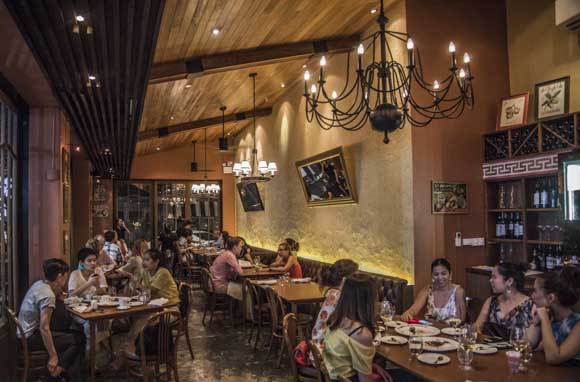 ON OCCASION, you eat a meal that speaks to you in a simple language and you know you will return and return again because you've glimpsed a landscape you want to see more of.
Appia, which comes to Bangkok courtesy of a collaboration between Jarrett Wrisley of Soul Food fame and Roman chef Paolo Vitaletti, is a restaurant with dishes that do that.
Vitaletti almost threw away his talents on a career in technology, he says, before realizing his heart was somewhere else.
"My father was a butcher and had a bakery, it was in the family … And working in a kitchen is something you can go anywhere with. You can travel."
He's traveled—a veteran of name hotels; most recently Aman at Summer Palace, Beijing—finally winding up at this remarkable space on Sukhumvit Soi 31 that somehow manages to conjure up an atmosphere of spacious intimacy.
Wrisley describes the fare as "labor intensive," and when he says that he's referring to everything on the menu, from the slow-roasted meats—note the industrial-size rotisserie behind the bar—to the handmade egg pastas. The result is a southern trattoria, as Vitaletti describes it.
"This is the food I grew up eating," says the chef. "It's like the equivalent of Thai street food, it's what you sit down and eat for lunch or dinner, something you do every day."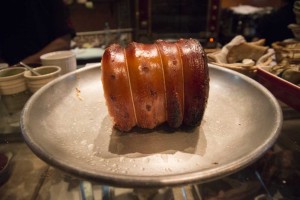 I ordered the cavatelli pasta with a lamb shoulder ragu that included caramelized carrot fondue and tarragon. I lingered over it wonderingly as I pondered the fact I'd never had a lamb ragu before—it's a Roman thing, I learnt later. And that pretty much sums Appia up in a way.
"It's atypical," says Wrisley. "Tightly focused on a regional Italian cuisine, and Bangkok didn't really have that before."
Reserve Appia, 20/4 Sukhumvit Soi 31 +66 (0) 2260-2056
Harvest Season, a novel, is available through Amazon in print and digital formats. In the UK: print, digital.