WHEN SOMERSET MAUGHAM passed through Burma, Siam and Indochina in 1923 — a journey documented in The Gentleman in the Parlour — he described Phnom Penh's riverside Grand Hotel as "large, dirty and pretentious."
Maugham visited long before the city's glory days of the 1950s and 1960s, when writers began throwing "Paris of the East" accolades at Cambodia's capital. Maugham's Phnom Penh was a backwater stopover en-route to the recently "discovered" ruins of Angkor, and the hotel he disapproved of is now branch of the KFC franchise, which it is difficult to imagine Maugham would approve of either.
Sadly, this is the Phnom Penh story. Largely vilified in its early days; two decades of restoration under Norodom Sihanouk (who abdicated as king in 1955 and was variously prime minister and head of state until 1970); emptied of its inhabitants and left to decay by the Khmer Rouge; reconstituted ad-hoc with massive inflows of foreign aid that lined the pockets of Cambodia's political elites; followed by the current flood of mostly foreign, last-frontier, sky-scraping speculation.
Meanwhile, you can still access the Grand Hotel from Street 13, which runs parallel to Sisowath Quay, and explore the rear annex rooms of the Grand, no longer large, no longer pretentious, but undoubtedly far more squalid than anything Maugham would have considered fit for human occupation. The rooms are now home to families who continue to cling onto downtown, prime-location lives amid Phnom Penh's break-neck-speed redevelopment.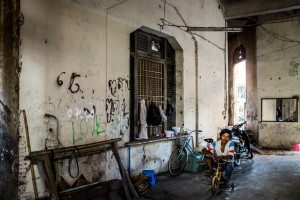 Relics such as the Grand — and the stories behind them — in waiting for transformation in Phnom Penh's latest urban upheaval are the subject of Steven Boswell's King Norodom's Head. Subtitled Phnom Penh Beyond the Guidebooks, Boswell's project is a compendious aggregation of Phnom Penh historical minutiae, echoes of the past that lead to forgotten anecdotes, conjectured locations of once celebrated and notorious bars, restaurants, opium dens, statuary of dubious provenance, and much more. In short, it is a forensic exercise in extracting as much detail as possible from a city trampled by the imperatives of modern capital before all material evidence of the past is gone.
Virak Roeun, 24, who graduated with a degree in architecture from the Royal University of Fine Arts in 2014, is another such seeker of forgotten fragments of Phnom Penh's past — and like Boswell, he admits most of them are living on borrowed time.
Virak has been working with Khmer Architecture (KA) Tours of Phnom Penh for three years, and some of the most poignant points of his tours date not from Phnom Penh's architectural renaissance of the 1950s and 1960s — the Olympic Stadium, the Institute of Foreign Languages on the campus of the Royal University of Fine Arts, the crumbling White Building — but the buried history that dates from the French Protectorate era (1863-1959). Slip into an alley off the riverside Sisowath Quay and stumble on the ruins of a Catholic church, a Hokkien clan association, a Cantonese community "gymnasium", the abandoned French colonial police headquarters.
None of these remnants is "preserved" because that is not the Phnom Penh agenda. Somebody hasn't got around to "redeveloping" them yet because the legalities of ownership are too complicated — or perhaps nobody has garnered the political clout to evict those who still squat in buried history. For a property developer — and these are the people who are reinventing contemporary Phnom Penh — could there be a more splendid opportunity than a capital city in the heart of Southeast Asia where the un-entitled poor live amid ruins awaiting demolition?
When we talk or write about Phnom Penh, we evoke three themes: nostalgia, destruction and unplanned reconstruction. But for the most part we are in a territory where nostalgia tugs hard at its antithesis. Even in Transitioning Cambodia, a self-published coffee-table book that tackles the almost impossible task of encompassing — for the most part in photographs — the reawakening of a country recovering from "Year Zero", the writer cannot resist invoking the "Pearl of the Orient" meme, recalling Lee Kuan Yew, Singapore's then prime minister, congratulating Norodom Sihanouk during a visit in the 1960s, "I hope, one day, that my city will look like this."
It is a common theme. Historian David Chandler, in his foreword to King Norodom's Head describes Phnom Penh in its day as "the prettiest city in Southeast Asia", and quotes himself on the capital as possessing a "sunstruck provincial elegance", going on to describe it as a "somnolent, handsome city with mustard-coloured or whitewashed villas and government buildings, and with wide, almost empty boulevards bordered with flame trees and bougainvillea."
Chandler, like Milton Osborne in Phnom Penh: A Cultural and Literary History, is recalling pre-Pol Pot Phnom Penh, when, in a remarkable burst of creativity, Paris-educated Cambodian architect Vann Molyvann played a leading role in the creation of some 100 buildings, most of them in the capital. Inspired by the utilitarian modernism of Le Corbusier and Angkor-era architectural motifs, Vann Molyvann indeed presided over something unprecedented in the region, and for Sihanouk, philosophically at least, the project was intended to embrace inclusiveness. The website whitebuilding.org references Sihanouk from the 2006 publication Building Cambodia: New Khmer Architecture 1953-1970: "Our capital must deal with the problem [of] urban population … We must begin the construction of low-cost apartment buildings that can be rented or sold to average and small-income families. This will no doubt take some time and requires progressive planning and investment."
Such sentiments seem obvious when we think about livable cities, but both Sihanouk's professed benevolence and Vann Molyvann's vision are a rarity.
As Darran Anderson notes in his elegantly discursive Imaginary Cities: "The idea of offering air, space and greenery en masse was revolutionary at a time when urban chaos and squalor existed hand in hand with vast unused country estates owned by the few." Anderson proceeds to quote Le Corbusier, Vann Moyvann's prime influence: "The materials of city planning are sky, space, trees, steel and cement in that order and in that hierarchy."
These principles, which inspired Phnom Penh's "charm period", have been forgotten. To be sure, you can get a glimpse of them still on the campus of the Royal University of Phnom Penh, but elsewhere the city groans and shudders as cement trucks rumble through streets and jackhammers rattle the city's inhabitants from their sleep. In Shanghai, in the 1990s, locals joked that the crane was the city's emblem. The same might apply to Phnom Penh in 2016, which is reportedly poised for a 533 per cent increase in condominium supply by 2018.
But for whom?
The truth is nobody knows. It is perhaps more apropos than even Anderson realises that he claims to have come up with the idea for Imaginary Cities in Phnom Penh. Cities is a simultaneously frustrating and fascinating exploration of utopian and dystopian concepts of the city throughout history. Drawing on a staggeringly diverse trove of philosophical and literary sources — skipping at times from Socrates to the Tower of Babel and from William Blake to the mobile cities of the Mongol hordes — Anderson meticulously weaves a tapestry that depicts the city as endlessly fertile ground for utopian promise and dystopian disappointment.
Phnom Penh is emblematic of both – perhaps more so than any other city in Southeast Asia. The utopian promise resides in the past and is largely remembered only in the pages written by those who have taken the trouble to document it, against the backdrop of a dystopian interregnum and a newly emerging dystopian future.
We are less reminded, for example, of Osborne and Chandler's "Pearl of the Orient" than we imagine it, and the city's envisioned future is still under construction — throwing buildings in the direction of the sky with nothing more than "build it and they will come" wistfulness and avarice. In the wake of the Khmer Rouge era, Phnom Penh had a chance to reinvent itself yet again. Instead it took the money and ran. It is still running and nobody knows where.
To be sure, Phnom Penh may rise anew with the architecture that is transforming it. As Osborne remarks in Phnom Penh, on the subject of the Central Market,
"Criticized at the time of its construction as too big for the population of Phnom Penh, it is crowded each day from the early hours of the morning when the ice arrives from the vendors in the wet market to the evening when the commerce is busiest around the gold shops and clothes stalls."
But whether Phnom Penh adapts to the scale of this latest wave of rampant "development" or not, one thing that is clearly absent is any sense of vision.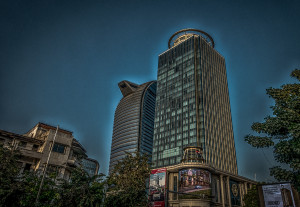 As Anderson said in a recent interview about Imaginary Cities, "It shows a profound lack of imagination that every tower that goes up is a tower to commerce … It could be towers to music, and culture … there's no reason we can't dare to dream again. Where are the towers for everything else? It's just a matter of nerve."
Unfortunately, if Phnom Penh has the nerve for anything today, it is the nerve to evict the poor that continue to inhabit the crumbling remains of the past, and to erect towers of commerce — certainly not towers that could be described as "daring to dream".
First published in Mekong Review. Subscribe for more. 
Darran Anderson, Imaginary Cities, Influx Press, 2015, 576 pages
Steven Boswell, King Norodom's Head: Phnom Penh Sights Beyond the Guidebooks, Nias Press, 2016, 295 pages
Nicolas Axelrod & Denise Hruby, Transitioning Cambodia, self-published, 2015, unpaginated
W Somerset Maugham, The Gentleman in the Parlour, Vintage Classics, 2001, 224 pages
Milton Osborne, Phnom Penh: A Cultural and Literary History, Signal, First Edition, 2008, 256 pages
Helen Grant Ross and Darryl Leon Collins, Building Cambodia: New Khmer Architecture 1953-1970, The Key Publisher Ltd Bangkok, 2006, 360 pages